Transaction Cancelled
Your PayPal transaction was cancelled. Your PayPal account was not charged.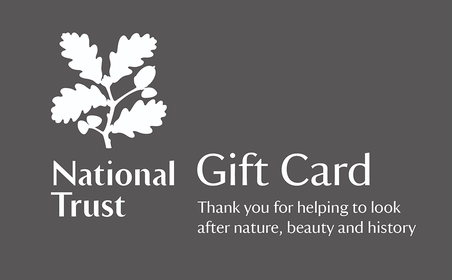 National Trust eGift Card
Personalise, Buy and Send a National Trust gift card online today! Free delivery on all eGift Cards. Order now and have your gift delivered instantly or at a scheduled time!
Valid for 2 years

Use in-store & online
A National Trust Gift Card is a great way of rewarding your loved ones, whether its exploring the great outdoors or relaxing in a holiday cottage. Use it to treat them to days out, cottage breaks, a spot of lunch, cream teas, shopping trips, and entry to the places we look after.
The National Trust is a conservation charity that looks after special places in England, Wales and Northern Ireland, for ever, for everyone. These National Trust Gift Cards play a big part in that because the money they raise goes towards looking after much-loved places. So whether that's helping to fund the cost of cleaning a beach or restoring a footpath, choosing this gift card makes a difference.
The National Trust Gift Card can be put towards holiday cottage bookings made by phone and spent at our on-site cafes, shops, and restaurants. It can be used at our admission point for entrance fees or National Trust membership itself for year-long free admission to over 500 places. Cards can now also be used for stays at the three Historic House Hotels and within the National Trust Online shop.
(Please note that National Trust Gift Cards cannot be used for any other online or telephone purchases.)